Attendance and access system SYSDO
Electronic access and attendance system
SYSDO attendance system is tailor-made mainly for small and medium businesses that do not want, or can not afford the expenses of installing servers and applications, which take care of attendance system. SYSDO runs online. Like other system of its kind, it monitors access and attendance of employees, but also offers much more options for both employers and employees.
Advantages for employers
Low startup and operating costs
Perfect overview of employees movements
Automatic creation of attendance reports
Improvement of work processes within company
Lifetime updates included in the subscription
Customization based on the customers wishes
and needs
Advantages for employees
Own attendance checking
Easy management of time-off
Overview of presence and attendance of other
employees
Highly intuitive interface
Applications for smartphones and tablets
Access from home and homeoffice
Access readers
User identification via hardware readers
User identification is done via attendance terminals and sensors. Access is done through fingerprint, chip card or entering a PIN code. Most of the readers connect entry (record) with a photo, which in addition to re-verifying of access also helps to create a variety of reports.
Virtual terminal
Attendance record directly from pc, smartphone or tablet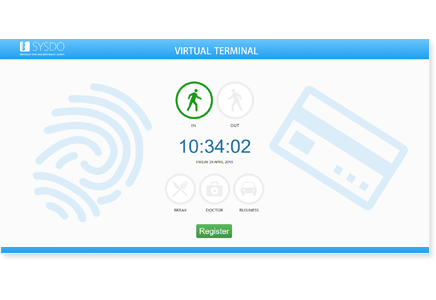 Very popular tool designed to record access and attendance is virtual terminal. All communication is done via computer (smartphone or tablet). In this case, hardware reader is replaced by a web page, which is a part of application SYSDO. Verification of users is done by entering a password.
If the virtual terminal is used, there is no need to install any other hardware, therefore any additional costs are zero.